What's New!
The next RAB meeting is scheduled for Wednesday, May 22, 2013 at Windham Town Hall. Click here for agenda and minutes from previous meetings.
See our new updated map showing Areas of Potential Contamination.
Army announces first five-year review of environmental remedies at Ravenna. Click here.
Click here for RAB agendas, minutes and presentations. The most recent presentations are from the Feb 20 RAB meeting: Additional Evaluation of the RVAAP-05 Winklepeck Burning Grounds, and Time Critical Removal Action Rocket Ridge Area of Open Demolition Area #2, Restoration of Stream Diversion Channel
Recent Documents Posted to RVAAP Website (May 8, 2013).
Click here to read the RVAAP Installation Action Plan for FY2011.

Click here for a Record-Courier article on the Ohio National Guard training exercises at RVAAP, June 1980.

Click here for a look at rare and historic Ravenna Ordnance Plant Newsletters from the 1940s.
Read local news articles in RVAAP in the News.
Be sure to check out our new Current Activities page for photos and info on the latest developments at RVAAP.
Click here to view the RVAAP Access Web Site Presentation.
Ravenna Army Ammunition Plant
Uniting National Defense and Environmental Restoration

The Ravenna Army Ammunition Plant (RVAAP) in Ravenna, Ohio, formerly produced ammunition for U.S. military during World War II, the Korean War, and the Vietnam conflict. About 93% of the property that had been part of the RVAAP now has been transferred to the stewardship of the Ohio National Guard. This transfer created the Camp Ravenna Joint Military Training Center. Camp Ravenna serves as a training ground for the Ohio Army National Guard. The remaining RVAAP property is being studied and cleaned up as needed to make its grounds environmentally safe for eventual transfer to the Ohio National Guard.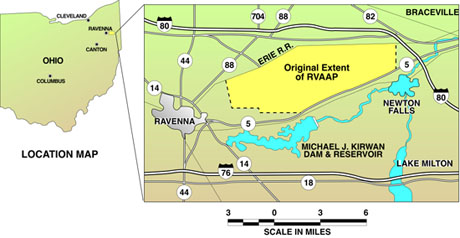 This federal land, situated in Portage and Trumbull counties in northeast Ohio, is under a cleanup program that will identify and cleanup environmental contamination left from early operations.
---
Web Site Navigation
The links in the left margin of each page of this web site may be used to navigate from page to page. When you click on links to other web sites or PDF files, use the 'Back' browser button to return to the RVAAP Access web site.