Home

Common Acronyms and Abbreviations
Restoration Program Activities
Areas of Potential Contamination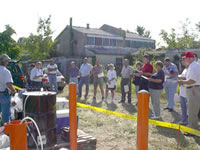 The Army recognizes the importance of public participation in it environmental cleanup program. Community participation enables the RVAAP team to understand and address public concerns about site investigation and possible cleanup with specific attention to health, safety, and environmental issues. Opportunities for public participation include:
Attendance at public or Restoration Advisory Board meetings where information about ongoing investigations and removal actions is provided;
Participation in public comment periods on restoration program documents;
Regular communication through public notices and news releases;
Updates on restoration program progress, activities, and meetings on the public website rvaap.org.

The Restoration Advisory Board (often called the RAB) is a committee of volunteers from the community who participate in area cleanup decisions. The board is made up of 21 private representatives from the community, one person from the Ohio EPA and one from the Army. They meet every six months to review and discuss the latest developments in the Installation Restoration Program at Ravenna Army Ammunition Plant (RVAAP).
Interested in becoming an RAB member? Click here to download the RAB Interest Survey.

Click here for RAB Operating Policy
Click here for map to RAB meeting locations.
Click here for minutes of previous meetings.
An Information Repository of current information and final documents is available to any interested reader at Reed Memorial Library (167 East Main Street, Ravenna) and at the Newton Falls Public Library (204 South Canal Street, Newton Falls).
The Administrative Record is a legal file containing any documents related to RVAAP cleanup. Its purpose is to provide the public with access to site information so they can be informed on the cleanup program. The Administrative Record File is located at Camp James A. Garfield which is a controlled access facility. Access to the Administrative Record File can be obtained with prior notification and arrangement.
Camp James A. Garfield
Environmental Office
1438 State Route 534 SW
Newton Falls, Ohio 44444
(614) 336-6136
What do you think?

Are you interested in learning more about RVAAP?
Do you have questions about environmental issues at RVAAP?
Are you interested in learning more about public participation opportunities?



Let us know if we can add your name to our mailing list.
---

All documents are in Adobe PDF format. Please download the Acrobat Reader, free of charge, by clicking on the icon at left.