What's New!
RAB Meeting - Wednesday, May 23, 2018, Schearer Community Center Township Hall, 9355 Newton Falls Road, .Ravenna Ohio 44266, 6:00PM.
Click here for announcement.
Click here for agenda.
Click here for RAB agendas, minutes and presentations.
The most recent presentations are from the Nov. 16, 2016 RAB meeting.
Click here to read the RVAAP Installation Action Plan for FY2016.
See our new updated map showing Areas of Potential Contamination.
Recent Documents Posted to RVAAP Website Sept. 27, 2017.

Click here for a Record-Courier article on the Ohio National Guard training exercises at RVAAP, June 1980.

Click here for a look at rare and historic Ravenna Ordnance Plant Newsletters from the 1940s.
Read local news articles in RVAAP in the News.
Be sure to check out our new Current Activities page for photos and info on the latest developments at RVAAP.
Click here to view the RVAAP Access Web Site Presentation.
Ravenna Army Ammunition Plant
Uniting National Defense and Environmental Restoration

The former Ravenna Army Ammunition Plant (RVAAP), now known as the Camp Ravenna Joint Military Training Center (Camp Ravenna), produced ammunition for U.S. military during World War II, the Korean War, and the Vietnam conflict. Administrative accountability for the entire 21,683-acre facility has been transferred to the United States Property and Fiscal Office (USP&FO) for Ohio and subsequently licensed to the Ohio Army National Guard (OHARNG) for use as a military training site, Camp Ravenna. The RVAAP restoration program involves cleanup of former production/operational areas throughout the facility related to former activities conducted under the RVAAP.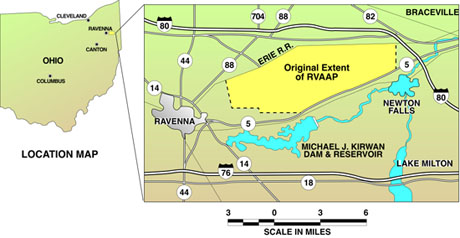 ---
Camp Ravenna, located in northeastern Ohio within Portage and Trumbull counties, is approximately three (3) miles east/northeast of the City of Ravenna and one (1) mile north/northwest of the City of Newton Falls. The facility is approximately 11 miles long and 3.5 miles wide. The facility is bounded by State Route 5, the Michael J. Kirwan Reservoir, and the CSX System Railroad to the south; Garret, McCormick, and Berry Roads to the west; the Norfolk Southern Railroad to the north; and State Route 534 to the east. In addition, the facility is surrounded by the communities of Windham, Garrettsville, Charlestown, and Wayland.
Web Site Navigation
The links in the left margin of each page of this web site may be used to navigate from page to page. When you click on links to other web sites or PDF files, use the 'Back' browser button to return to the RVAAP Access web site.